WSGW Morning Team Show: May 31, 2022 (Tuesday)
It's the WSGW Tuesday Morning Team Show with Charlie and Dave and Pat and YOU…..
Every Tuesday Morning after the 7:30am news during the Great Lakes Loons season, Charlie talks with Tyler Kring of the Loons for all the updates, news, information, and fun of Great Lakes Loons Baseball  (runs 12:34)…..
*************************************************************
Every Tuesday following the 8:30am news on the WSGW Morning Team Show, it's the "Michigan History Moment", and this morning, featuring John E Codwell Jr.  (runs 2:56)…..
*************************************************************
Charlie and Dave and Pat and YOU:     We say "thanks" to all at the Saginaw Memorial Day Parade for giving us a wave, plus some Tigers baseball fun  (runs 8:12)…..
*************************************************************
Charlie and Dave and Pat and Art and YOU:     A Saginaw son getting some Michigan love as he's about to be named the head coach of one of the most legendary NBA teams  (runs 3:35)…..
Click for Link to Detroit News story
*************************************************************
Charlie and Dave and Pat and Art and YOU:     The man responsible for The Band has passed away  (runs 3:20)…..
*************************************************************
Man Dressed as Woman in Wheelchair Attacks Mona Lisa
Ile Kauppila – Oddee
The strange incident took place at the Louvre, Paris, where Mona Lisa hangs on display.   On May 29, a crowd of people had gathered to view the painting, as usual.
A person whom everyone had assumed to be a wheelchair-bound old woman suddenly leaped up to her feet.   But as everyone soon realized, this wasn't an old lady at all.
The cross-dressing man then began punching the bulletproof glass covering Mona Lisa in an apparent attempt to break it.   Finding that his strength wasn't enough to shatter the case, he then smeared a cake he'd apparently been holding all over the glass.
It took some 10-15 seconds for security personnel to make their way through the crowd.   As the attacker spotted them, he then started to toss roses at the guards.   They apprehended the man and escorted him away.
As the man walked past the crowd, he told them in French to "think about the Earth."   "There are people who are destroying the Earth.   Think about it.   All artists, think about the Earth," he said.   "This is why I did this.   Think about the planet."
The man had been taken to a police psychiatric unit, while authorities opened an investigation that could result in him being charged with damaging cultural artifacts.
Although this is by far the most bizarre attempt at damaging Mona Lisa, it's not the first one in any case.   Every since the painting achieved public attention in the late 19th century, there have been multiple cases of people trying to damage or steal it.
In fact, while the painting was still fairly obscure, it was successfully stolen.   On August 21, 1911, Mona Lisa disappeared from the Louvre.
During the investigation, even Pablo Picasso was suspected of being the culprit.   But the real thief was Vincenzo Peruggia, a Louvre employee.   An Italian nationalist, Peruggia believed the painting should've been returned to Italy. He swiped Mona Lisa from Louvre and hid it in his apartment for two years.   Eventually, authorities caught him when Peruggia tried to sell the painting to get rid of it. In 1914, Mona Lisa returned to Louvre.
The next incident happened in the early 1950s when a man attacked Mona Lisa with a razor blade.   He claimed to be in love with the painting and was trying to steal it — or make sure no one else could have it.
In 1956, another vandal managed to throw acid at Mona Lisa, damaging its lower edge while the painting was on display at another museum.   After this event, Louvre put a glass case around the painting, but it wasn't yet the modern bulletproof case.
Also in 1956, a Bolivian man called Ugo Unhaza Villegas hurled a stone at the painting while visiting Louvre.   The stone broke the glass case and caused slight chipping damage to the canvas.
Then, in 1974, Mona Lisa made a trip to Japan to visit the Tokyo National Museum.   While on display, a woman sprayed paint on the painting to protest the museum's lack of access for disabled people.   The now bulletproof case prevented the paint from tarnishing Mona Lisa.
Before the cake incident, the latest attack on Mona Lisa took place in 2009.   That's when an upset Russian woman, who had just been denied French citizenship, threw a souvenir teacup from Louvre at the painting.   Once again, the glass case prevented damage to the painting.
*************************************************************
 Beer with a "taste of security" and a "hint of freedom"
Jari Tanner – Associated Press

HELSINKI (AP) — A small brewery in Finland has launched a NATO-themed beer to mark the Nordic country's bid to join the Western military alliance.   Finland and Sweden recently submitted an application to join NATO at the alliance's headquarters in Brussels.
Olaf Brewing's OTAN lager features a blue label with a cartoon version of a beer-drinking medieval knight in metal armor emblazoned with NATO's compass symbol.
The beer's name is a play on the Finnish expression "Otan olutta," which means "I'll have a beer," and the French abbreviation for NATO, which is "OTAN."   The North Atlantic Treaty Organization has two official languages, English and French.
CEO Petteri Vanttinen told The Associated Press the craft brewery's ad hoc decision yo start producing the beer was motivated by "worries over the war in Ukraine" and its consequences for Finland.
He described the new lager as having "a taste of security, with a hint of freedom."
Olaf Brewing said its new beer also honors the eastern Finnish town of Savonlinna, the brewery's base located a few dozen kilometers from Finland's border with Russia.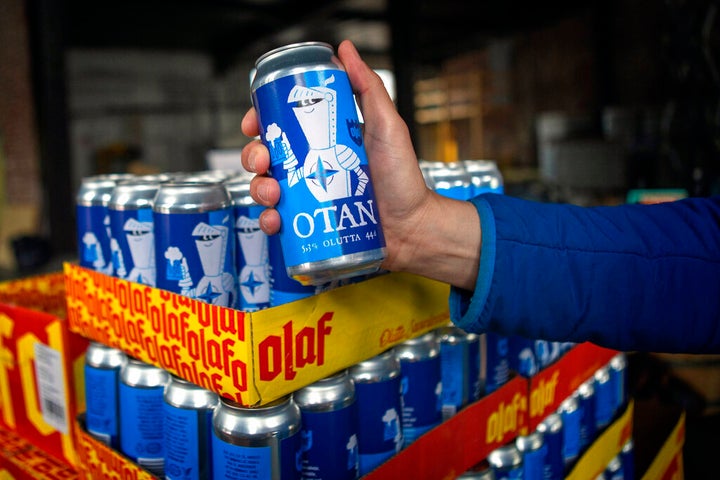 Photo:   Soila Puurtinen/Lehtikuva via AP
*************************************************************
Contest Continues for YOU!   Enter Today and Good Luck!
*************************************************************
Here is the information about the Loons/MBF Baseball Fun
MIDLAND, Mich. – The Michigan Baseball Foundation (MBF) is pleased to announce the launch of an initiative that will take one lucky ticket winner and a guest to Los Angeles and historic Dodger Stadium for the 2022 MLB All-Star Game and Home Run Derby!
MBF will sell 1,000 raffle tickets at a cost of $100 per ticket.  The drawing to determine the winner will take place on Friday, July 1 at Dow Diamond.  All proceeds from raffle ticket sales will benefit the Michigan Baseball Foundation.
This once-in-a-lifetime experience includes:
4 Days and 3 Nights in Los Angeles
First-class airfare for two
Three-night hotel accommodations at Historic Biltmore Hotel
$1,000 debit card for food and incidentals
Rental Car
Two tickets to the MLB Home Run Derby
Two tickets to the MLB All-Star Game
The winner will also receive two (2) tickets to Dine on the Diamond – An Evening with Terry Collins on Thursday, July 21 at Dow Diamond.  Midland native and former MLB manager Terry Collins will serve as the guest of honor, who led the New York Mets to the 2015 World Series and also managed the Houston Astros and Anaheim Angels.
Support of this initiative will assist MBF in fulfilling its mission of charitable giving and aid in capital projects for Dow Diamond. Since 2008, MBF has awarded 321 grants totaling $1,292,465 to deserving non-profit organizations across 14 counties throughout the Great Lakes Bay Region.
Tickets can be purchased by calling the Great Lakes Loons at (989)-837-2255, visiting Dow Diamond's box office in person Monday through Friday 9:00 A.M.-5:00 P.M., or at Guest Services during Loons home games.
*************************************************************
The WSGW Morning Team Show Is Sponsored by…..
"Sound Asleep Sleep Diagnostic Lab"
Four locations serving You in Saginaw, Bay City, Midland, and Mt. Pleasant
The Only Accredited Private Sleep Lab in the Area Owned and Operated by a Physician
Two Board Certified Physicians and Three Nurse Practitioners are Dedicated to Treatment of Sleep Disorders
Home Sleep and in the Lab Sleep Studies
If You're Waiting Months for an Appointment, Sound Asleep Lab can schedule You within One to Two Weeks
The Most Cost Efficient Sleep Lab and Consulting Facility in the Area
Call:   989 – 792 – 2792
****************************************************************
Wake Up Song of the Day:     Corey Hart "Sunglasses at Night".   Corey is 60 today.
---